Saw Monarch Butterfly flying north across upper pasture.
Blanco River flooded the low water crossing at noon, it was passable the next morning.
Saw 2 small Nine lined racing Lizards
Saw Rose Finch
Saw Porcupine at Milo ans Sunflower seed feeding area
Heard Golden-cheeked Warbler
Saw Turkey
Planted one ounce Maximillian Sunflower seeds at septic spray area and at hay barn pond
Saw Possum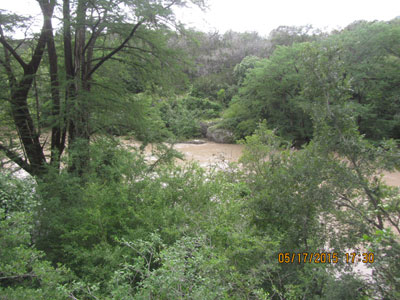 Blanco River flooded at Vulture Gulch. This image is used as a "before " picture to compare to the big 50 foot flood rise on May 23, 2015, Memorial Day weekend. Compare this image to Journal entry May 23, 2015 for perspective.
Posted in Census, Habitat, Food, 2015 Journal