Archive for '2007 Journal' Category
Hunting begins. Shot:
3 1/2 year old male 8 point antler - 120 pounds
Posted in 2007 Journal, Census
Consulted on baseline data photo points for conservation easement.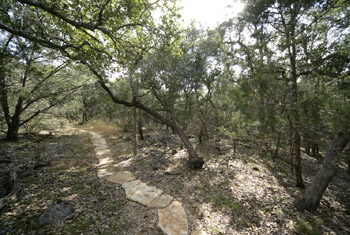 Caretaker's note: A conservation easement is a way for landowners to preserve their property in its natural state in perpetuity. It is a legal document that is tied to the deed and follows the property if it is sold to new owners.
There are many non-profit land trusts that can hold and enforce the easement. The landowner creates the development restrictions of the conservation easement for their own property. Landowners can continue to live on and work the land in accordance with the conservation easement. An overall view of conservation easements and Texas land trust organizations can be found at Texas Land Trust Council.
Part of the process is to describe the current state of the land by using photographic data points at various and unique places on the property. The 360 degree photo points are used to reference any changes throughout the years.
The conservation easement is a tax-deductible gift to the land trust, that can be used for a number of years, depending on the property owners financial situation.
Saw:
Woodpecker checking for bugs in the Martin house
Phoebe at river bottom
To do:
Prop brush piles around trees to be protected
Maintain river trail
Maintain road and fenceline access
Posted in 2007 Journal
No raccoons. Not many birds. Very dry.
Found dead mouse on steps at house. It is a mystery about how it died. There was no blood and it had not been eaten.
Droppings imply evidence of feral hogs. Later study revealed the droppings were from a large older deer.
Collected mulch from Oak Wilt project and used on driveway
Watered new plantings
Tractor work:
Took loose rocks from the road to infill eroded road on the south side
Brought dirt from old pile near barn to fill new garden bed in tipi pasture that had been caliche bare spot for years. Added Natural Gardener amendment. Planted 1 pound deer resistant seed mix (from Native American Seed)
Caretaker's note: Although the plants in this seed mix are mostly deer resistant, it was noticed that the seedlings do get severly browsed and so this area will need to be caged for best results until plants reach maturity.
Posted in 2007 Journal, Census, Habitat
Used tractor to deepen natural pond in bobcat draw
Raked rocks from road to use for infill at road erosion on south side
Used extra dirt to beef up erosion control along road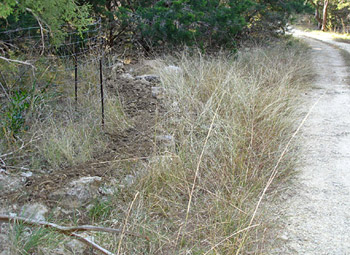 Posted in 2007 Journal, Erosion, Water
Watered all new plantings
Removed Johnson grass
Mowed trail and access to feeding area
Relocated 7 Leopard frogs from pond near house to river
Saw black snake with yellow stripe down the length of its back
Found snake skin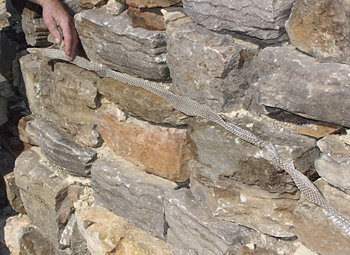 Posted in 2007 Journal, Census, Habitat