February 23 2014
Installed (2) Wren bird houses, (1) at back porch and (1) at pole barn
Watered Cedar Elms along road (left the water on slow drip for two days)
Saw Various Butterflies including Dogface, Orange Sulphur, Checkered White, Sleepy Orange, Checkered Skipper, Juniper Hairstreak and Black Swallowtail and saw hudreds of bees on Rosemary bush in full bloom.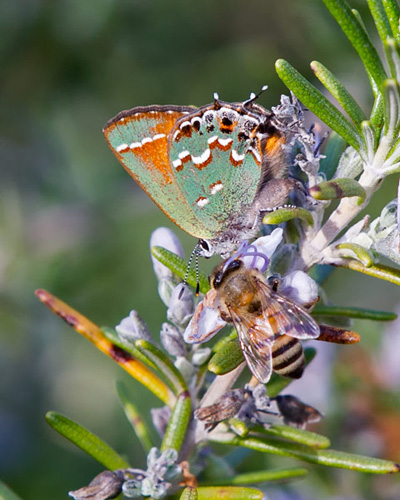 Juniper Hairstreak butterfly and Honey Bee sharing nector on the Rosemary bush.
This entry was posted on Sunday February 23 2014 at 12:00 am and is filed under Census, Habitat, Shelter, 2014 Journal You can follow any responses to this entry through the RSS 2.0 feed.