November 06 2007
Consulted on baseline data photo points for conservation easement.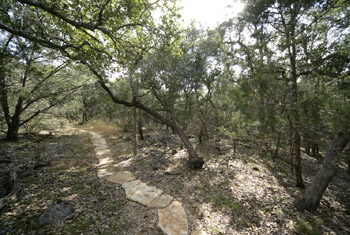 Caretaker's note: A conservation easement is a way for landowners to preserve their property in its natural state in perpetuity. It is a legal document that is tied to the deed and follows the property if it is sold to new owners.
There are many non-profit land trusts that can hold and enforce the easement. The landowner creates the development restrictions of the conservation easement for their own property. Landowners can continue to live on and work the land in accordance with the conservation easement. An overall view of conservation easements and Texas land trust organizations can be found at Texas Land Trust Council.
Part of the process is to describe the current state of the land by using photographic data points at various and unique places on the property. The 360 degree photo points are used to reference any changes throughout the years.
The conservation easement is a tax-deductible gift to the land trust, that can be used for a number of years, depending on the property owners financial situation.
Saw:
Woodpecker checking for bugs in the Martin house
Phoebe at river bottom
To do:
Prop brush piles around trees to be protected
Maintain river trail
Maintain road and fenceline access
This entry was posted on Tuesday November 06 2007 at 4:32 pm and is filed under 2007 Journal You can follow any responses to this entry through the RSS 2.0 feed.